INSTITUTE INDEX: Will Southern governors sacrifice their economies by seceding from the Medicaid expansion?
Of 29 studies that looked at the economic impact of Medicaid, the joint federal-state health care program for low-income Americans, percent that found Medicaid spending has a positive impact on state economies: 100
Rank of Medicaid among the largest sources of federal funds for states: 1
Amount Mississippi appropriated to Medicaid in fiscal year 2012: $819.3 million
Amount Mississippi drew down from the federal government for its program as a result: $2.4 billion
Amount that spending generated in salaries in Mississippi: $2.365 billion
Amount that spending added to Mississippi's general fund: $156.6 million
Rank of Mississippi among the states that would see the largest influx of federal funding from the Medicaid expansion that's part of the Affordable Care Act, a.k.a. "Obamacare": 1
Rank of Medicaid among the greatest economic development engines for Mississippi, according to a state representative who's considered one of the legislature's leading experts on the program: 1
Percent of Mississippi residents who live in poverty: 22.4
Rank of Mississippi among the states with the highest poverty rates: 1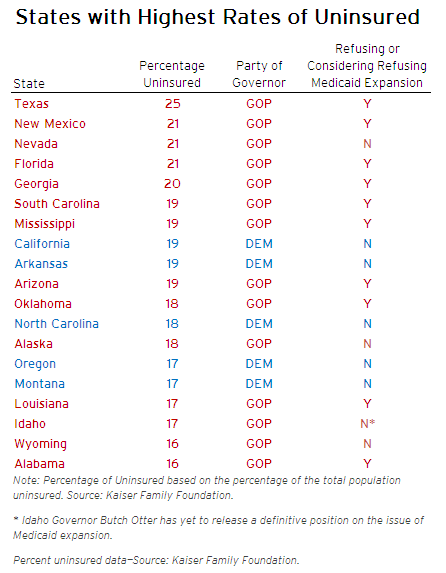 Rank of Mississippi among the states with the highest unemployment rates: 8th
Current unemployment rate in Mississippi: 8.7
Amount Mississippi would be expected to receive between 2014 and 2019 under the Medicaid expansion: $9.8 billion
Percentage that amount represents of Mississippi's yearly gross state product: 10
Date on which Mississippi Gov. Phil Bryant (R) said he planned to resist Medicaid expansion in his state: 6/28/2012
Of the 19 states with rates of uninsured residents higher than the national average, number in the South (see accompanying chart; click for larger version): 9
Of those nine Southern states, number where the governors have said they are refusing or considering to refuse the Medicaid expansion: 7
(Click on figure to go to source. Map from the Gallup-Healthways Well-Being Index. Chart from the paper "Give Me Liberty or at Least Your Votes: A Study of Governors' Altruism on Health Care" by John Hudak with the Brookings Institution.)
Get a PDF Version of this article!
Sue Sturgis on

Fri, 07/13/2012 - 10:04
By